Where in the National Park System do you want to visit? Traveler's "A Day In The Park" series offers overviews of the units of the park system, starting with the 59 "national parks." Check back to see which units have been added.
Acadia National Park, Maine
"Raw, rugged, and surf-splashed" well define Acadia National Park, which at anchor in the Atlantic just off Maine's coast quite easily could also be described as a Yankee blue blood of the National Park System.
Arches National Park, Utah
Arches National Park is one of the world's, not just one of the United States', most incredible national parks.
Badlands National Park, South Dakota
Eerily eroded "badlands" -- what other word would you use to describe these naked hills? -- are front and center in Badlands National Park, evidence of the harsh environment and the poor soils. But there's more geology to the Badlands than just its namesake hills.
Big Bend National Park, Texas
"Big" is a great descriptor for Big Bend National Park, where the park's more than 801,163 acres range from desert lands to mountain peaks and are rimmed on the south side by one of the country's great rivers.
Biscayne National Park, Florida
A subtropical wilderness surrounded by urbanized Florida, Biscayne National Park is a tantalizing water world inviting you to get wet.
Black Canyon of the Gunnison National Park, Colorado
A dark and scary place? Some might think that of Black Canyon of the Gunnison National Park, a place where the sun's rays only reach the bottom of the canyon at midday, and where the cliffs are so steep and intimidating that few climbers seem up to the challenge.
Bryce Canyon National Park, Utah
Southern Utah's national parks all are red-rock wonders. Zion National Park features towering cliffs of stone. Arches National Park showcases a one-of-its-kind collection of stony arches and windows. Canyonlands National Park is a maze of canyons, and Capitol Reef National Park offers a sprawling rockscape.
Canyonlands National Park, Utah
One of the most fascinating parks in the National Park System, at least geologically, is Canyonlands National Park in southeastern Utah. Baked by time like some multi-layer geologic tort, Canyonlands features a landscape cut by canyons, rumpled by upthrusts, dimpled by grabens, and even pockmarked, some believe, by ancient asteroids.
Capitol Reef National Park, Utah
There are five national parks in Utah, and Capitol Reef National Park very likely is the one you've never heard about, but the one you definitely should put on your bucket list. Why? Because seemingly few people have discovered it, and it's not a next door neighbor of any of the other four. And if you like rugged and wild Western landscape that's carved out of the Colorado Plateau, this is the place to head.
Carlsbad Caverns National Park, New Mexico
As beautiful as above-ground landscapes are in the National Park System, if you head underground you'll find stunning vistas that will leave you breathless. Carlsbad Caverns National Park in New Mexico is, arguably, the biggest cave draw in the park system, and perhaps the most beautiful.
Channel Islands National Park, California
Forests of kelp waving to and fro in the currents. Archaeological and paleontological surprises. An incredible assemblage of wildlife that has the area known as the '˜Galapagos of the North'. These are just some of the reasons to explore Channel Islands National Park off California's coast.
Congaree National Park, South Carolina
The absence of human sounds was mesmerizing. Insects buzzed, and birds sang, their sounds rising and falling as they drew near and flew off. One sound we didn't hear was the tell-tale drumming on tree bark of Ivory-billed woodpeckers, though some think the birds thought extinct might exist deep within Congaree National Park in South Carolina.
Crater Lake National Park, Oregon
A volcanic crater within a volcanic crater is just one the unique aspects of Crater Lake National Park, a park that has a lake at its heart but which also tracks the fascinating geology of volcanism. Wizard Island, of course, is the volcanic crater within the much, much, much larger crater that holds this park's namesake lake.
Cuyahoga Valley National Park, Ohio
Surrounded by thickly settled areas, and crisscrossed by interstate highways, Cuyahoga Valley National Park in Ohio nevertheless manages to provide a sanctuary of nature that can be a salve for the soul for those trying to find a break from today's hectic world.
Death Valley National Park, California/Nevada
Death Valley National Park can take a little getting used to. It can be ridiculously hot, incredibly arid, and seemingly devoid of much to see or do. But if you spend a little time in the park and give it a chance...
Denali National Park and Preserve, Alaska
Six million wild acres, a mountain that tests the world's best mountaineers, and a landscape that can reach deep into your heart with its character are phrases that help define Denali National Park and Preserve, but it can take a lifetime to truly understand and appreciate this place.
Dry Tortugas National Park, Florida
Freeman Tilden brushed on the military history of a small clutch of coral cayes when he mentioned Fort Jefferson National Monument in The National Parks, but the brief entry did little justice to the place known today as Dry Tortugas National Park.
Everglades National Park
One of the most incredibly beautiful birds you'll find in Everglades National Park is the Purple Gallinule. Unless you see a Roseate spoonbill. Or maybe a Tri-colored heron. Or a ..., well, you get the idea. There are an amazing number of gorgeous, and more common, bird species in the park. But time is running out to easily spot many of them, as the rainy season isn't too far off.
Gates of the Arctic National Park and Preserve
I stumbled across a video the other day that further convinced me that I need to move Gates of the Arctic National Park higher on my to-do list. In it, two septuagenarians set off on a three-week canoe trip down the Noatak River, a river the park staff tells us "drains the largest mountain-ringed river basin in America that is still virtually unaffected by human activities.
Glacier Bay National Park and Preserve
When John Muir traveled in 1879 to the landscape now embraced by Glacier Bay National Park and Preserve in Alaska, his great desire to see its bay and surrounding glaciers was confounded by overcast skies and rain with some snow mixed in. But when the weather took a change for the better, he was astounded by the view.
Glacier National Park
Amid a field of wildflowers and a backdrop of peaks framing the Continental Divide, the goateed mountain goats were the center of attention. While a handful of bighorns dealt with the June day's heat by relaxing in a waning snowfield, and grizzlies were deep in the backcountry, the iconic ambassadors of Glacier National Park were true posers for those following the trail to Hidden Lake.
Grand Canyon National Park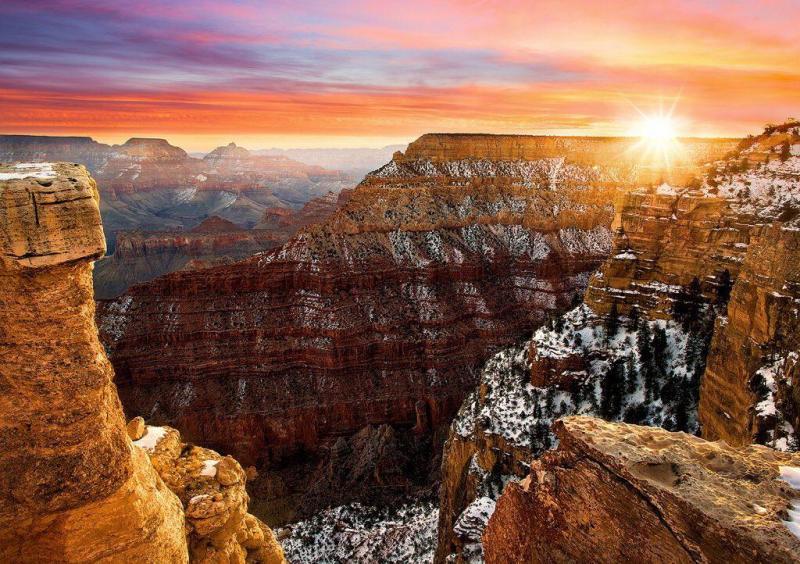 A colorful rift in the earth millions of years -- and immeasurable gallons of water -- in the making, the jagged maw of the Grand Canyon draws crowds content enough to simply stare across this impressive cross-section of geology from either the South or North rim of its namesake national park.
Grand Teton National Park
Standing atop Grand Teton, it's easy to see the handiwork of Horace Albright and John D. Rockefeller, Jr. To the southeast is Timbered Island, almost directly below is Jenny Lake, and a bit to the northeast is Jackson Lake. Not in view are the "shabby developments littering the roadway from Menors Ferry to Moran and along Jenny Lake's south and east shores" that Mr. Rockefeller and Albright, then Yellowstone National Park's superintendent, saw in 1924.
Great Basin National Park
Big trees, big mountains, and even a big cave greet those who head off the beaten track to Great Basin National Park in Nevada not far from the Utah border.


Great Sand Dunes National Park and Preserve
Somebody asks you to name the national park with the most impressive sand dunes, and you quickly answer, "Death Valley National Park!" And, of course, you'd be wrong.
Hot Springs National Park, Arkansas
Long before thoughts turned to "national parks," a small town in Arkansas known as Hot Springs was drawing visitors desiring to relax in, well, the hot springs there. Today you can still find a good soak in Hot Springs National Park, but there's more to this place than hot water.
Isle Royale National Park, Michigan
Isle Royale is a 571,800-acre, heavily forested island in tempestuous Lake Superior that under the National Park Service captures a snapshot of northwoods past, one that has been manipulated by succeeding generations of visitors. Yet it's a place where one can disappear into a vestige of wilderness, cast for a rare species of trout, or relax in a cabin or lodge room and enjoy the placid surroundings.
Joshua Tree National Park, California
Straddling the geographic divide that splits the Mojave Desert from an element of the Sonoran Desert, Joshua Tree National Park is a geologic and botanical showcase that is a climber's gymnasium. But it also can be an unforgiving landscape, one that has claimed more than a few lives.
Katmai National Park and Preserve
Bears -- big, brash coastal brown bears -- often are what most come to mind when there's mention of Katmai National Park and Preserve in Alaska. And that's understandable thanks to the Brooks River and the bear viewing opportunities there. But if that's all you consider when researching a trip to this national park, you'll kick yourself later.